More often than not, an interference in internet connectivity happens and it doesn't bode well whenever you have critical work to be done.
A solution to such a situation is straightforward, however. In times when your Wi-Fi connection is acting up on you, you're never too careful for having a Wi-Fi backup to keep whatever you're doing up and running.
Mobile network hotspot
If your Wi-Fi at home becomes unreliable when you least expect it, your smartphone would be your first alternative. It's considered part of the phone's essential features for a reason.
Make sure that you have at least a 4G-powered SIM card, subscribe to a mobile network plan apt to your need, and activate your mobile data and hotspot. Look for the Wi-Fi hotspot on your device that needs connectivity.
Doing so, however, drains your smartphone's battery life and, depending on the location or what type of mobile network provider you're using, might only be half-reliable. It's only recommended as an alternative for quick online tasks such as sending instant messages or sending emails.
Pocket Wi-Fi
If you don't like to always rely on your smartphone, you can get yourself a pocket Wi-Fi which transforms mobile data signal into a private wireless network.
It is similar to when you're using a mobile hotspot on your smartphone and works as a personal router like what you have at home. It's the perfect compact Wi-Fi backup device when you're always on the go and distrusts public Wi-Fi in cafes or hotels, which means you can use it anywhere and anytime.
A minor disadvantage of having a pocket Wi-Fi is battery drain, but investing in durable and long-lasting devices will not hurt your wallet.
Wi-Fi Dongle/Internet USB stick
A Wi-Fi dongle, also known as an Internet USB stick, is a relatively old device that has been used by many travelers long before the use of pocket Wi-Fi has become common.
Unlike a pocket Wi-Fi, a Wi-Fi dongle is plug-and-play to provide you mobile data. It's also light, pocket-sized, and portable.
Although it doesn't encounter battery drain issues, it might still pose Internet signal limitations. You would need to be in areas with strong mobile network signals.
SKY Fiber AlterNet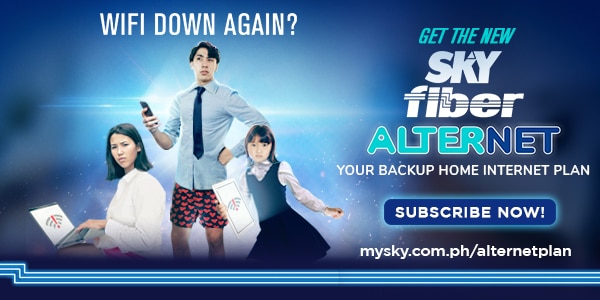 If you don't feel secure working with the Wi-Fi backups mentioned above, perhaps SKY Fiber's latest internet subscription plan is your best bet.
A first of its kind, SKY Fiber AlterNet is designed as a backup broadband postpaid connection whenever your primary network service provider acts up again. You don't rely on your mobile data for this one, making it much more reliable.
The little downside to this is the cost. For an initial monthly pay of P199, you can get an unlimited connection with a base speed of 1.5Mbps, in which the rate is upgradable by topping it up for a specific time that will cost more.
If you're not running a company, this might be too expensive for a backup plan, especially if you will rarely use it.